Their small size (poker size) and light weight (3 ounces) makes them portable so that you can have them with you all the time to use as flashcards to hard wire essential survival skills into your brain.
They are inexpensive enough that you can put one in every GO bag, 72 hour kit, and glove compartment without breaking the bank.
They're priced so that you can give them to family & friends as gifts… both to fellow "preppers" and to people that you want to test the waters with.
Stress, low light, age, and exhaustion all make it harder to read small type.
These cards strike a perfect balance between the amount of information on each card and having a large enough text to actually be readable, so you'll be able to read them when you need the information most.
Pull this deck of cards out at your next poker night and see where the conversation goes!.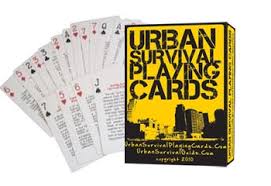 Don't Take My Word For It
Here Is What Others Are Saying
"Very nice deck of cards. Survival information good to have.
Hopefully won't need, Be hard pressed to find more
information in such a small package."
"Fantastic information. When I go thru the deck I remember things that I have taken for granted. Well laid out info source."
"They are really useful, I have used them here in the house
several times since I got them, in my storage
center and in fixing 72 hour kits."
100% Money Back Guarantee!
Supplies Are LIMITED So Please Grab Yours Now!